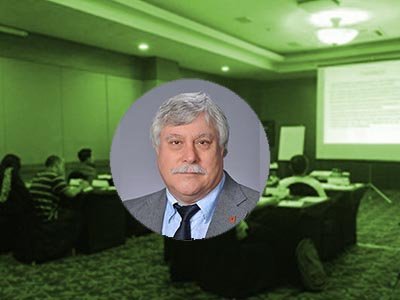 Date
:
September 4 - 7, 2017 (4 days)
Venue
:
Le Meridien, Jakarta - Indonesia
Instructor
:
Robert Shoup - Board Certified Petroleum Geologist
Language
:
English
Cost
:
EARLY BIRD REGISTRATION UNTIL AUGUST 4, 2017
IDR 17.000.000 (IPA Individual Member)
IDR 22.500.000 (Non- IPA Individual Member)
REGULAR REGISTRATION AFTER AUGUST 4, 2017
IDR 22.500.000 (IPA Individual Member)
IDR 27.500.000 (Non- IPA Individual Member)
We encourage Participants to apply as IPA Individual Member to get benefit for registration cost.
COURSE DESCRIPTION AND OBJECTIVES
Our ability to predict reservoir presence or map net reservoir in clastic depositional systems is dependent on our understanding of the depositional geometries of the various depositional systems and the variation of patterns within those systems. The processes associated with sediment delivery and sediment dispersal is the fundamental control on the architectural geometry of a depositional system. The processes associated with the interplay between sediment input and accommodation space are the fundamental controls on the lateral and vertical stacking patterns within that geometry.
The geometry of the depositional system is similar regardless of the depositional location or scale. As such, the patterns within the geometries are also similar, and, therefore, predictable. This is a powerful concept that the interpreter can use in predicting depositional geometries and patterns. Whether the reservoir being studied was deposited on land or on a submarine fan, or whether it is 100's of kilometers in scale or a kilometer, the geometry of the deposit is similar. Therefore, interpreters need only become familiar with the basic geometries of clastic depositional systems and the patterns that occur within those geometries.
Modern and outcrop analogs will be used, along with subsurface examples to provide the interpreter with a sound understanding of the reservoir distribution and quality, both laterally and vertically of the clastic depositional systems most commonly encountered as oil and gas reservoirs.The course is exercise-oriented and taught in PowerPoint format. A course manual is provided. The exercises in this course are designed to give you a strong working knowledge of the many depositional settings you are likely to encounter in your career. They are aimed at helping you to learn how to recognize them from well logs, and how to map them.
Day 4 is a core workshop. Participants will describe cores from five depositional environments using full-scale core posters.
LEARNING OUTCOMES
Understand the basics of correlating well logs in clastic sequences utilizing shale and resistivity markers, interval thickness, sequence stacking patterns and cross-sections
Review the fundamental controls that influence clastic depositional systems
Understanding of the lateral and vertical reservoir distribution, reservoir characteristics and connectivity of braided, meandering, anastomosing, and entrenched river systems
Understanding of the lateral and vertical reservoir distribution, reservoir characteristics and connectivity of alluvial fans, deltas, and submarine fan systems
Improved ability to construct accurate sand percent maps for reservoir prediction, and net sand and net pay isochore maps for accurate reservoir characterization.
Learn how to read a core and interpret the depositional environment
Learn how to utilize the DAKS database for both exploration and development projects
WHO SHOULD ATTEND
E&P professionals involved in the prediction or delineation of clastic reservoirs. The course will be particularly useful for professionals early in their career and experienced professionals new to working with clastic reservoirs.
CONTENT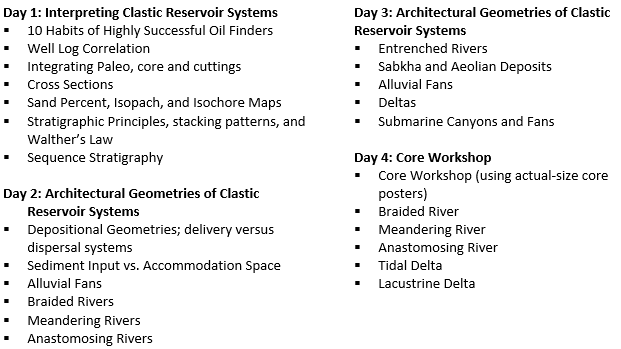 ABOUT THE INSTRUCTOR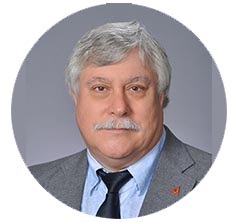 Robert 'Bob' Shoup is a Board Certified Petroleum Geologist with over 36 years experience in basin analysis, regional studies, new play generation, prospect evaluation, field studies and development planning, drilling operations, and project management. Bob began his career at Shell Oil in 1980; followed by four years working for private oil companies before becoming an independent consultant in 2003. He currently serves as the Chief Geologist for Subsurface Consultants & Associates, the Director of Clastic Reservoir Systems, and sits on the Board of Directors for Sandalphon Energy. Over the course of his career he has discovered or helped to discover over 130 MMBOE.
Bob is a recognized expert in clastic depositional environments and in syndepositional structural systems. In 1994 he was a nominee for the Pulitzer Prize in drama for his play Second Alarm.
Bob is an active contributor in the professional community. He is a Past President of Bangkoks SEAPEX and of AAPG's Division of Professional Affairs and past Secretary-Editor and Chair of the AAPG House of Delegates. He has served on numerous AAPG Committees and was Chairman of AAPG's Mentor, Membership and Student Chapter Committees. He is a recipient of eight AAPG Certificates of Merit; AAPG's Distinguished Service Award in 2000, and the DPA's Distinguished Service Award in 2008 and made Life Member of the DPA in 2010.
Bob is also a life member of the IPA, the Geological Society of Malaysia, and the South East Asia Exploration Society
He currently serves as an ethics lecturer for the DPA, as well as the Editor for the DPA's newsletter "The Correlator" and he is the President of Bangkok's Chapter of the South East Asia Petroleum Exploration Society.
Bob teaches various SCA training courses areas around the world.
For registration and detail information, please contact:
IPA SECRETARIAT
Indonesia Stock Exchange Building - Tower 2, 20th Floor (Suite 2001)
Jln. Jendral Sudirman Kav. 52-53
Jakarta 12190 - Indonesia
Telephone : (62-21) 515-5959
Facsimile : (62-21) 5140-2545; 5140-2546
E-mail : anna.sulistiyaningsih@ipa.or.id or maydy.rahmadani@ipa.or.id
Substitution, Cancellation and No-show policy:
The Course registration is transferable. Written notification is required for substitution no later than 5 working days prior to the course start date.
Cancellation received by 2 weeks before the course start date, participant will get 50% refund
Cancellation received by less than 2 weeks before the course start date, participant will get no refund
No-show participant will be full charged
All requests must be submitted to anna.sulistiyaningsih@ipa.or.id
Events Timeline