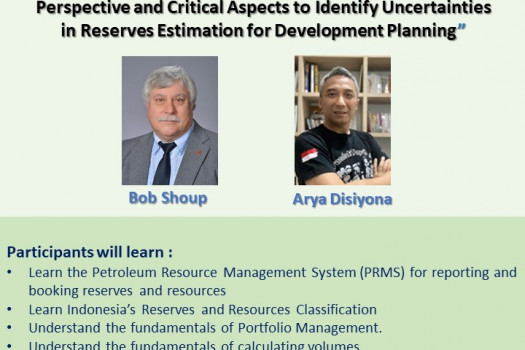 Pre Convention Course (Offline): "Resource and Reserve Assessment a Geological Perspective and Critical Aspects to Identify Uncertainties in Reserves Estimation for Development Planning"
Instructors
:

Robert Shoup - Subsurface Consultants & Associates (SCA)
Arya Disiyona - SKKMIGAS

Dates
:
19-20 September 2022
Venue
:
Kristal Hotel – Jl. Tarogong Raya, Cilandak, Jakarta Selatan
Time
:
08:00 – 17:00 (Jakarta Time), each day with breaks
Cost
:

IDR 3.750.000 + VAT 11% (IPA Individual Member)

IDR 4.875.000 + VAT 11% (Non-IPA Individual Member)
SUMMARY
This class will review the Petroleum Resource Management System (PRMS) and the guidelines for reporting reserves and resources and will present a number of industries best-practices for assessing those reserves and resources. However, in certain country has several particular aspects that logically reasonable to apply classification in different implementations. Therefore, the course provides some case studies that able as good examples how they manage resources become valuable assets.
COURSE DESCRIPTION AND OBJECTIVES
This two-days class provides an overview of portfolio management, reserve and resource reporting and methods and best practices for assessing and risking those reserves and resources. Course will be delivered in bilingual English and Bahasa Indonesia.
LEARNING OUTCOMES:
Learn the Petroleum Resource Management System (PRMS) for reporting and booking reserves and resources
Learn Indonesia's Reserves and Resources Classification
Understand the fundamentals of Portfolio Management.
Understand the fundamentals of calculating volumes
Learn the difference between risk and uncertainty in estimating reserves and resources, and how to evaluate both.
Understand uncertainty analysis application for reserves estimation in development planning.
WHO SHOULD ATTEND
Geoscientists, reservoir engineers, and team leaders involved with assessing and booking reserves and resources.
WHY YOU SHOULD ATTEND
The reserves and resources booked by a company are the foundation of the company's value. This class will help ensure that the assessment of reserves and resources are as accurate as the data allows and are reported in a manner consistent with industry recommended standards.
CONTENT
Project vision and strategy of commercialization
Portfolio Management and the Petroleum Resource Management System (PRMS)
Reserve Estimation Methodologies
EUR, EMV, and ROI estimation
Net Pay Isochores and estimating volumes from isochores
Uncertainty versus Risk
Quantifying Uncertainty
Quantifying Risk
ABOUT THE INSTRUCTORS
Robert 'Bob' Shoup is a Board Certified Petroleum Geologist with over 38 years of experience in basin analysis, regional studies, new play generation, prospect evaluation, field studies, and project management. Bob began his career at Shell Oil in 1980; followed by four years working for private oil companies before becoming an independent consultant in 2003. Bob teaches various Subsurface Consultants & Associates (SCA) training courses areas around the world and currently serves as SCA's Chief Geologist. Bon is also the Director of Clastic Reservoir Systems. Throughout his career he has discovered or helped to discover over 135 MMBOE.
Bob is a recognized expert in clastic depositional environments and syndepositional structural systems.
Bob is an active contributor to the professional community. He is a Past President of Bangkok SEAPEX and AAPG's Division of Professional Affairs and past Secretary-Editor and Chair of the AAPG House of Delegates. He has served on numerous AAPG Committees and was Chairman of AAPG's Mentor, Membership and Student Chapter Committees. He is a recipient of eight AAPG Certificates of Merit; AAPG's Distinguished Service Award in 2000, and the DPA's Distinguished Service Award in 2008 and made Life Member of the DPA in 2010.
Bob is also a life member of the IPA, the Geological Society of Malaysia, and the South East Asia Exploration Society
Arya Disiyona is a Geologist with 20 years experiences. As geologist, Arya has strong skill in sequence stratigraphy, reservoir characterization, build geocellular model, reserves estimation, and field development. The first 5th years career as consultant geologist in Lemigas made some geology model to several clients in Indonesia. Then after gained the wealth experience of oil/gas exploration an operatorship from Kangean Energy Indonesia (2007-2008). By end of 2008 it led him to joined BPMIGAS (now SKK Migas) and was started as a Dev. Geologist. His responsible are to provide subsurface/technical evaluation of POD, EOR, and gas development. He always works in a team with different group both exploration or development.
Currently, Arya is Sr. Manager of Gasfield Development in SKK Migas (Special Task Force for Upstream Oil & Gas Activity of Government of Indonesia). He leads a team who should to evaluates Gas Project proposal from Oil and Gas Company (the Operator) in Indonesia. The review includes geological assessment, reserves estimations, field development scenario, and economic calculation.
Arya has produced book of Revision-2 and Revision-3 of PTK (Pedoman Tata Kerja) Plan of Development. This book is necessary as a guideline for all Operators that willing to propose field development planning to Government. In technical aspect he as well as has several subsurface papers and uncertainty analysis for reserves estimation.
HOW TO REGISTER :
Please contact to Anna Sulistiyaningsih : anna.sulistiyaningsih@ipa.or.id or WA : +62 81310106595
Complete the registration form : https://bit.ly/PreConvex22Course1