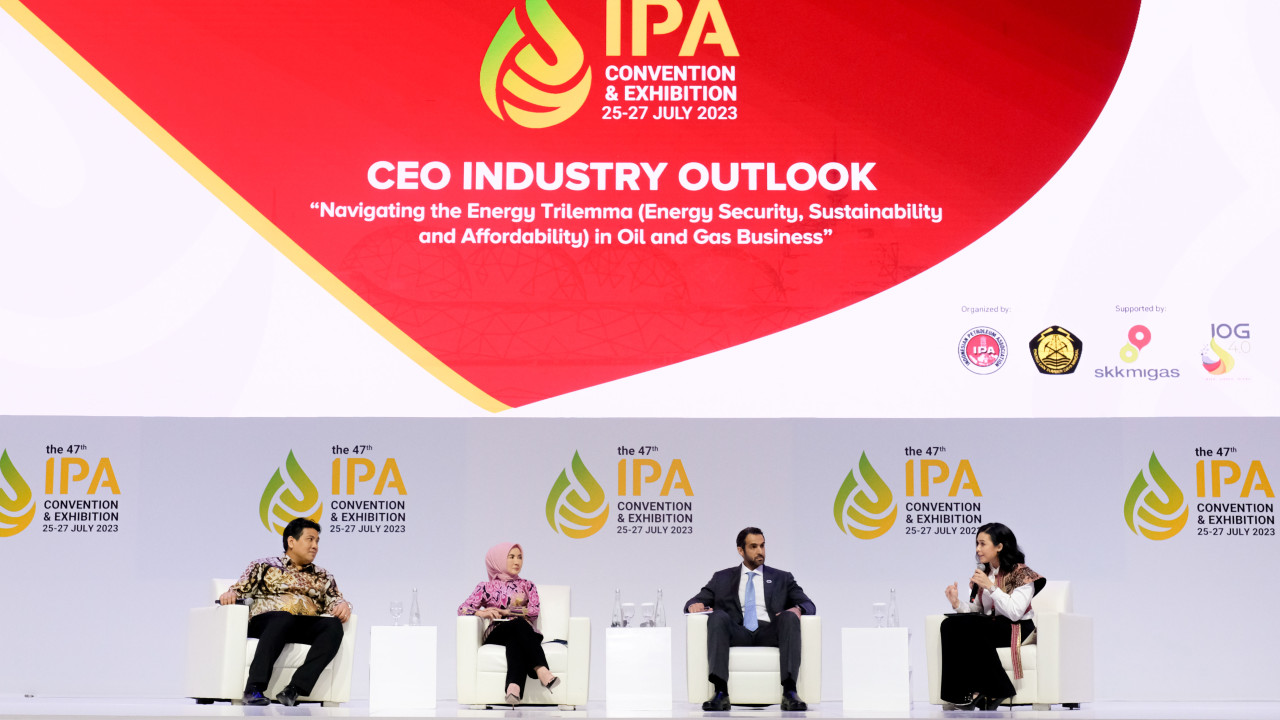 Implementation of CCS and CCUS Consolidates Crucial Position of Oil and Gas in the Energy Transition Era
JAKARTA - Amid increasing energy demand, the upstream oil and gas industry as the main support in fulfilling this need is facing quite big challenges, namely the energy transition and global efforts to reduce carbon emissions.
Nicke Widyawati, President Director of PT Pertamina (Persero), explained Indonesia's current position as an energy importer country including oil and gas, thus the top priority is securing energy availability.
"We have to produce (oil and gas) to meet domestic demand. The government wants to increase production, so we allocate a lot of investment costs there (increased production)," Nicke said in the IPA Convex 2023 CEO Industry Outlook discussion session with the theme Navigating the Energy Trilemma, at ICE BSD, Tangerang, Tuesday (25/7).
Pertamina continues to explore oil and gas to find new reserves to increase production, she said.
At the same time, the decarbonization program is non-negotiable as Indonesia's commitment to achieving a net zero carbon emission target, she said.
Pertamina, said Nicke, has made the application of CCS/CCUS as one of the focuses of decarbonization in carrying out operational activities in the upstream oil and gas sector.
"Decarbonization must be done through CCS/CCUS, and we have to explore new oil and gas blocks to increase production," said Nicke, adding that specifically for CCUS, apart from being a decarbonization tool, it is also used to optimize existing production wells.
So far, according to Nicke, Pertamina has two main programs in developing CCS/CCUS, namely the Jatibarang field and the Sukowati field.
The task that is no less important, according to Nicke, is to balance the priorities of energy security, affordability, and environmental sustainability to meet energy needs and the future of decarbonization in the upstream oil and gas business.
Tan Sri Tengku M Taufik Tengku Kamadjaja Aziz, CEO of Petronas, said that Petronas management is focused on the current state of energy which is very vulnerable to crisis conditions. For this reason, the company must continue to seek new oil and gas resources.
"I told the management to search for and produce oil and gas responsibly towards the environment, but still have to optimize costs. Every development plan must consider carbon reduction, so CCS/CCUS is a very critical matter," said Taufik.
He hopes that the search for oil and gas reserves will continue, because in theory, oil and gas will still be needed in large quantities and in fact the amount will increase in the future, not only for transportation or electric power but also for industry.
"Exploration should not be considered dead. This could be premature death. When energy demand from various sectors increases, while the proportion of oil and gas begins to decrease, it means that we still need oil and gas until a new system is operational," he said.
Mansoor Mohammed Al Hamed, CEO of Mubadala Energy, said that the oil and gas industry has proven to be a mainstay for a country's economy, so its role in this energy transition era will not be easily replaced. Especially for gas that has lower carbon emissions when compared to other fossil energy.
He assesses energy transitions and guarantees that energy security must run in balance. For that, the application of technology is very important.
"Today we signed the CCS MoU with Pertamina. This is a very important area to be able to accelerate our transformation," said Mansoor. (*)