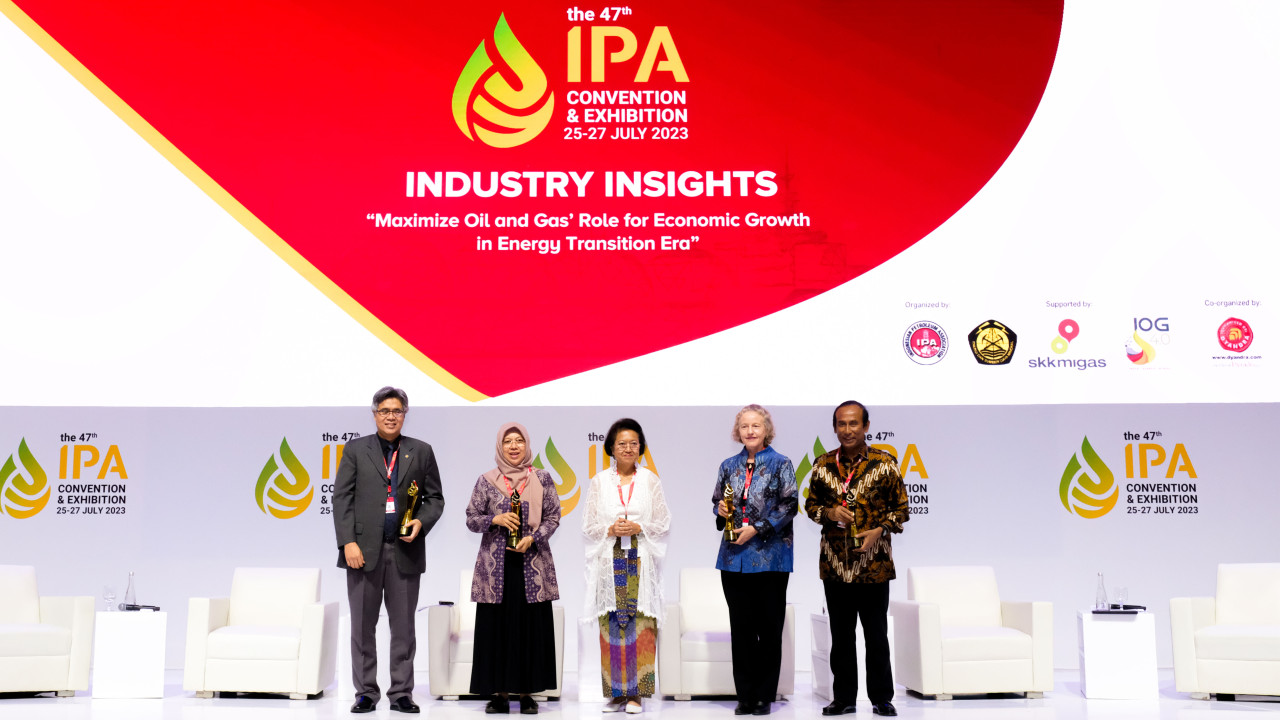 Oil and Gas Has the Ability to Oversee the Energy Transition
All stakeholders agree that oil and natural gas cannot simply be replaced by New Renewable Energy (EBT) and instead become an important element in the energy transition process. Demands for environmental sustainability in upstream oil and gas operations are becoming greater and must be met by all business actors. The problem is how to balance it, meeting energy needs and environmental sustainability through low carbon emission operational activities.
Carole Gall, Indonesia Petroleum Association (IPA) Board, who is also President Director of ExxonMobil Cepu Limited, disclosed that ExxonMobil projects energy demand to increase by 15% on average per year. Then 55% of the world's demand for energy will be met from oil and gas.
"This is a significant amount of energy to be met by oil and gas. The solution to dealing with emissions from oil and gas is CCS (Carbon Capture Storage) / CCUS (Carbon Capture Utilization and Storage)," said Carole in an Industry Insight discussion session themed Maximize Oil and Gas Roles for Economic Growth in Energy Transition Era at IPA Convex 2023, Tuesday (25/7).
Based on data from the Ministry of Energy and Mineral Resources (ESDM), currently there are 15 CCS/CCUS projects in various stages, for example Gundih CCUS/Enhanced Gas Recovery (EGR) in Central Java, and Sukowati CCUS/Enhanced Oil Recovery (EOR) in East Java.
Carole explained, apart from being a mainstay for meeting energy needs for the next few decades, the oil and gas sector also plays an important and unique role in the energy transition because it has qualified human resources in overseeing the energy transition.
"The oil and gas sector has resources that have the right skills for the energy transition, we have engineers, good commercial thinkers, operational management, maintenance, innovation, all the skills in the oil and gas sector will be important for the energy transition, so we anticipate that in oil and gas will not only provide energy for the next few decades but also brains, the ability for innovative solutions for energy transition," explained Carole.
Nuki Agya Utama, Executive Director of the ASEAN Center for Energy (ACE) said that transportation, households and industry are sectors that are the main consumers of oil and gas. Southeast Asia (ASEAN), he continued, is the region most dependent on oil and gas.
"Oil and gas energy consumption of around 50% -56% is very large, especially for Southeast Asia to consider maintaining oil and gas resources wisely. All discussions related to energy, people only think about EBT not about oil and gas, but in ASEAN we are still looking for oil and gas," Nuky explained.
ASEAN countries, according to Nuky, must have the same vision in anticipating future oil and gas consumption trends. When CCS/CCUS is running automatically, consumption will definitely continue to increase.
Dwi Soetjipto, Head of SKK Migas, stated that upstream oil and gas business actors have adapted well enough to the demands of changing times. Many companies have touched on the EBT sector to increase the contribution of reducing carbon emissions in upstream oil and gas operations. This proves that awareness of the sustainability of the oil and gas business remains high.
"The oil and gas industry currently deals not only with oil and gas but also with the use of new renewable energy and facilities such as the use of solar panels and NBS (Nature Based Solutions). That is part of environmental awareness, although it remains focused on oil and gas," Dwi said. (*)