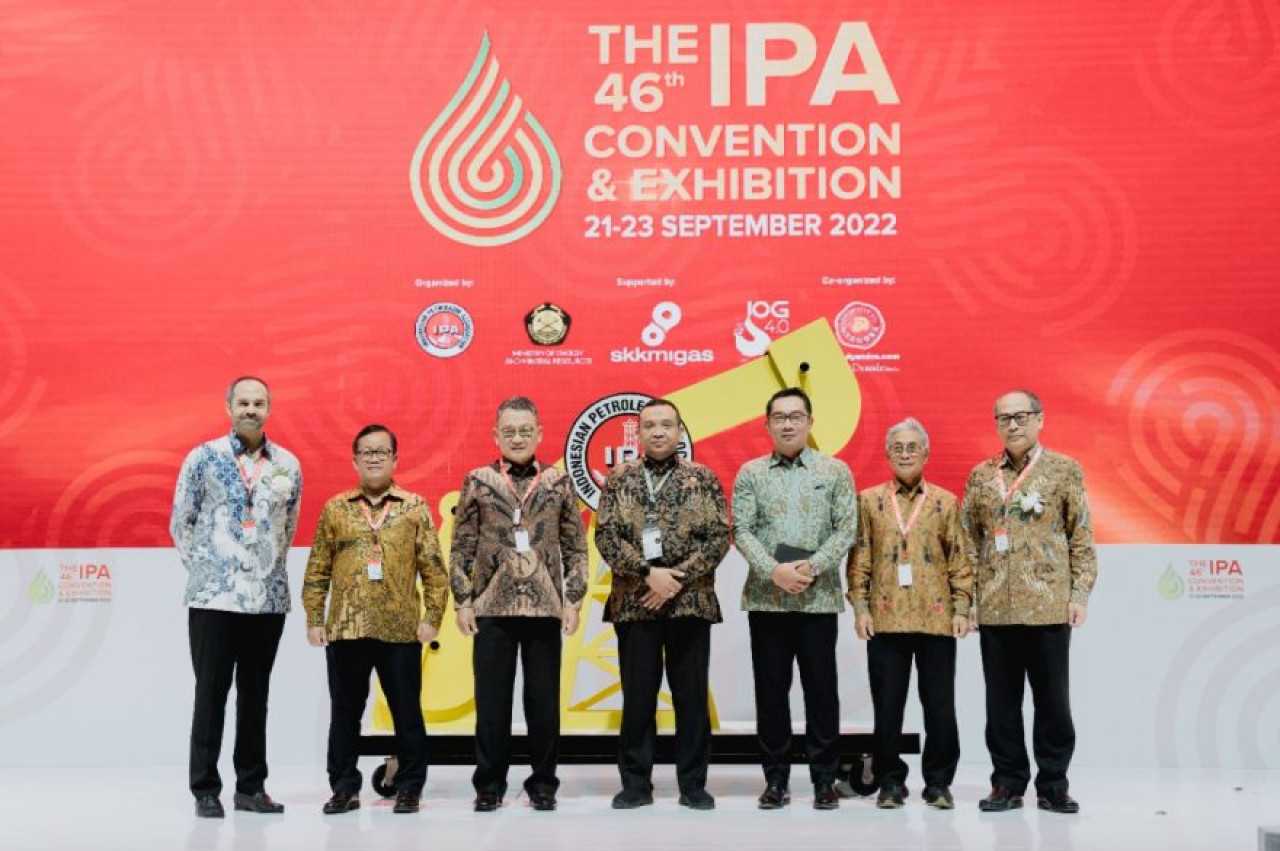 Acceleration of Implementation of Low Carbon Technology is Necessary
JAKARTA – The Indonesian Petroleum Association (IPA) presents the 46th IPA Convention and Exhibition in 2022 at the Jakarta Convention Centre as a hybrid event on 21-23 September 2022, with the theme "Addressing the Dual Challenge: Meeting Indonesia's Energy Needs While Mitigating Risks of Climate Change." Event was opened by the Minister of Energy and Mineral Resources, Arifin Tasrif.
In his opening speech, Arifin Tasrif emphasized the importance of low-carbon innovation technology in oil and gas production activities. This is necessary considering the oil and gas industry is currently facing two concurrent challenges, namely meeting the demand of Indonesia's energy needs and carbon emission reduction targets.
Arifin conveyed that currently, the Government is drafting a Ministerial Regulation on CCS/CCUS. As the first step, the main focus is to regulate CCS/CCUS for Enhanced Oil Recovery, Enhanced Gas Recovery, or Enhanced Coal Bed Methane in the oil and gas working area. "We are still finalizing the draft and this regulation is one of our priorities," he said.
On the same occasion, the Coordinating Minister for Maritime Affairs and Investment, Luhut Binsar Panjaitan, in his remarks delivered via recorded video explained that the oil and gas industry remains strategic for Indonesia's economic development. According to him, the role of this industry is even more significant as Indonesia supports the Paris Agreement to achieve net zero emissions by 2050 or earlier by providing much-needed clean energy that helps us transition to more renewable energy in the energy mix.
"This is not an easy task – because we have to maintain Indonesia's economic growth, and at the same time it will require abundant, affordable and reliable energy sources," he said.
Meanwhile, the President of IPA, Irtiza Sayyed, said that Indonesia has extraordinary natural wealth and is attractive to investors. According to Irtiza, in the next 10-20 years, the upstream oil and gas industry needs to massively develop and explore Indonesia's oil and gas potential given the high demand for energy. "This effort will tick two boxes at once, namely: increasing state revenues and meeting energy needs for Indonesia's growth," he said.
Together with encouraging an increase in oil and gas production, he continued, the oil and gas industry is currently also focusing on reducing carbon emissions. In their operations and production activities, oil and gas companies continue to develop various technologies that can reduce carbon emissions and produce cleaner energy.
One of the most promising technologies for achieving lower emissions is Carbon Capture and Storage (CCS). The application of this low-carbon technology aims to reduce emissions to achieve net zero emissions by 2050 or sooner. However, policy support is needed to encourage investment.
"In the case of a technology like CCS, the investment required is enormous, and deployment at an industrial scale are long-term commitments. To make the long-term business case for such an investment, stakeholders expect that government policy will support the technology they're helping to scale," he said.
Irtiza added that the transition to sustainable energy requires close collaboration between stakeholders: industry players and the government.
"We are playing a decisive role in supporting the energy transition while meeting the soaring demand for energy. Furthermore, it takes tremendous and collective effort to achieve sustainable and reliable energy. So, let's work out a scenario for a lower carbon future together," he said.
IPA Convex 2022, which is held jointly by Dyandra Promosindo as a co-organizer, and supported by the Ministry of Energy and Mineral Resources and SKK Migas, will take place as a hybrid event for three days, 21 to 23 September 2022.
The opening ceremony of the 2022 IPA Convention and Exhibition was attended by key players in the oil and gas industry, such as Minister of Energy and Mineral Resources Arifin Tasrif, Deputy Minister of Manpower Afriansyah Noor, Head of SKK Migas Dwi Soetjipto, Chair of Commission VII of the Indonesian House of Representatives Sugeng Suparwoto, Chair of ADPMET and Governor of West Java Ridwan Kamil, as well as the Director General of Oil and Gas of the Ministry of Energy and Mineral Resources, Tutuka Ariadji and the leaders of oil and gas companies operating in Indonesia.
The event was supported by a number of sponsors, both oil and gas companies and other companies from the upstream oil and gas industry in Indonesia. The companies that become sponsors include PT. Pertamina Hulu Energi as the Platinum sponsor; BP Berau Limited, PT. Energi Mega Persada Tbk., ExxonMobil Indonesia, PT Medco Energi Internasional Tbk (MedcoEnergi), Mubadala Energy, and PETRONAS Indonesia as Gold sponsors; Chevron Indonesia, Sinopec Indonesia, Harbor Energy, and Schlumberger as Silver sponsors.