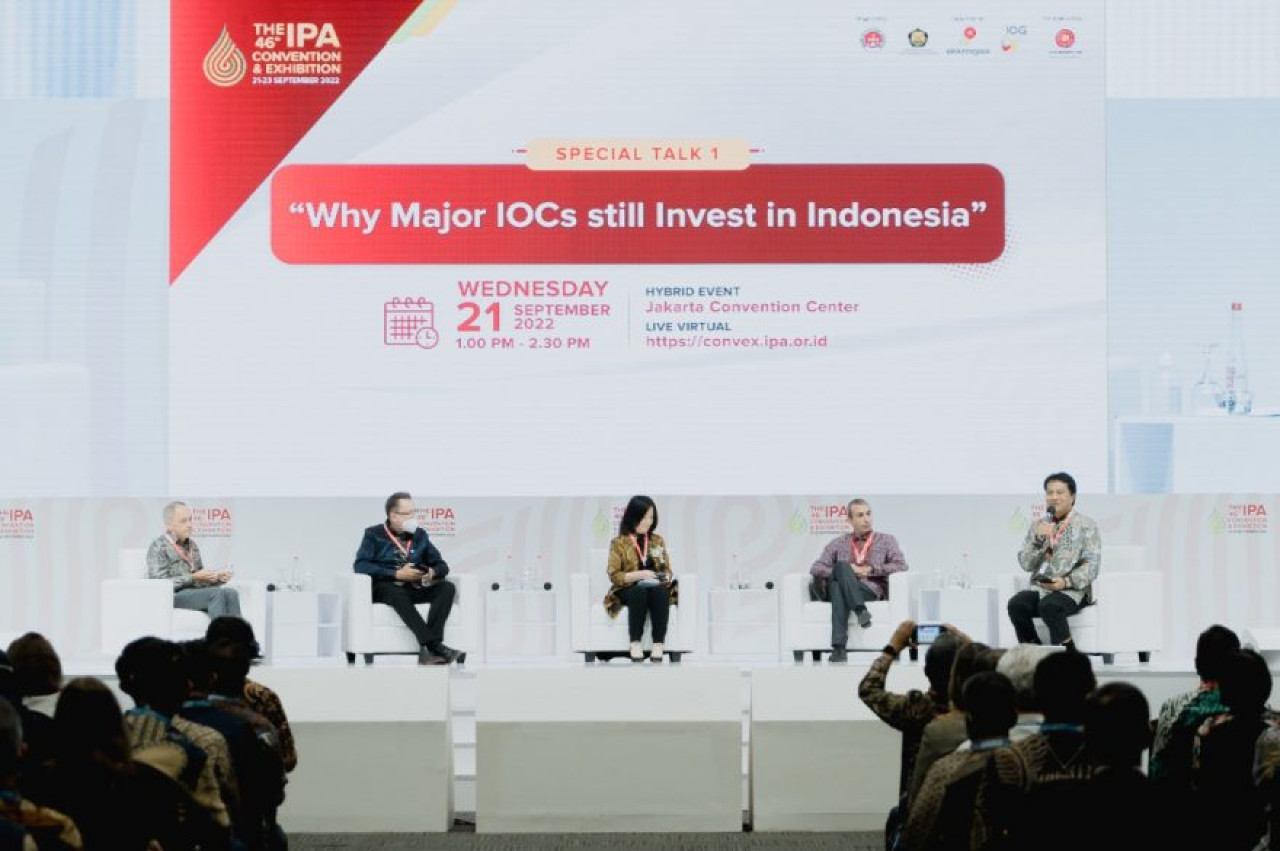 Indonesia's Upstream Oil and Gas Industry Still Attractive to Investors
Indonesia's upstream oil and gas sectors are still attractive to major international oil and gas companies. However, the sectors still face a number of challenges affecting investment, ranging from post-pandemic recovery to fiscal governance that needs improvement.
A number of panelists, at the 46th IPA Convention & Exhibition Special Talk I session on Indonesia's Upstream Oil and Gas Investment entitled "Why Major IOCs Still Invest in Indonesia" at the Jakarta Convention Center on September 21, said that upstream oil and gas investment in Indonesia is still promising. However, there are still various challenges that require strategic solutions to overcome them.
Managing Director of ENI Indonesia, Diego Portoghese said that in line with the setting of target for oil production of one million barrels per day (BOPD) and natural gas of 12 billion cubic feet of gas per day (BSCFD) in 2030, the company is committed to continuing investment in Indonesia.
Currently, ENI is developing an oil and gas field in East Merakes. This project is a development of the Kutai Basin basin which has been running since 2021.
"This project requires a fairly hard effort due to the COVID-19 pandemic that has emerged since the beginning of 2020," said Diego.
Referring to data from the Special Task Force for Upstream Oil and Gas Business (SKK Migas), the investment for this project, which is located near the Makassar Strait, is worth US$ 1.3 billion. It is estimated that this project will increase national gas production by 368 million standard cubic feet per day (MMSCFD). Gas production from the field is produced from five wells and is channeled through the Jangkrik Floating Production Unit pipeline, which is about 45 kilometers from the Merakes Field.
Meanwhile, Asia Pacific Regional President of BP, Kathy Wu, explained that the government is very open to investors, including BP. Moreover, according to Kathy, BP has been in the country's upstream oil and gas industry for five decades. Shared vision with relevant stakeholders is the key to good relations between investors and the government.
"We are optimistic that the government will maintain good relations with investors. BP sees that the Indonesian government is willing to provide convenience and is eager to cooperate with investors," said Kathy.
In addition, President Director of Harbor Energy Indonesia, Gary Selbie said that the gas sector in Indonesia is one of the considerable potentials. The prospect of gas in Indonesia currently needs to be explored further. This is considering the momentum for the energy transition and the 2050 Net Zero Emissions (NZE) target. Exploration and utilization of gas can help achieve these two things.
Harbor Energy, said Gary, saw the potential for the use of Carbon Capture Storage (CCS) or Carbon Capture Utility Storage (CCUS). Gary assesses that if the utilization of CCS/CCCUS runs optimally it will help achieve the target of 24 percent of the gas portion in the energy mix.
"Why we are still investing here is because we see opportunities from CCS/CCUS, and there are opportunities for good cooperation with the government," said Gary.
Furthermore, Egon Van Der Hoeven, SVP Business Development of ExxonMobil Cepu Limited, said that Exxon's investment in the Cepu Block oil and gas project resulted in a production of around 500 million barrels. However, Egon explained that the government also needs to make more flexible policies, especially in the fiscal sector.
Egon added that improving governance in the upstream oil and gas sector will increase investor confidence. The government's desire to increase oil and gas investment to meet energy demand requires collaboration with investors. Moreover, said Egon, capital will flow to the best projects in the midst of investment competition between countries.
"Solutions to these challenges require the participation of various stakeholders, such as SKK Migas and the Ministry of Energy and Mineral Resources," said Egon.