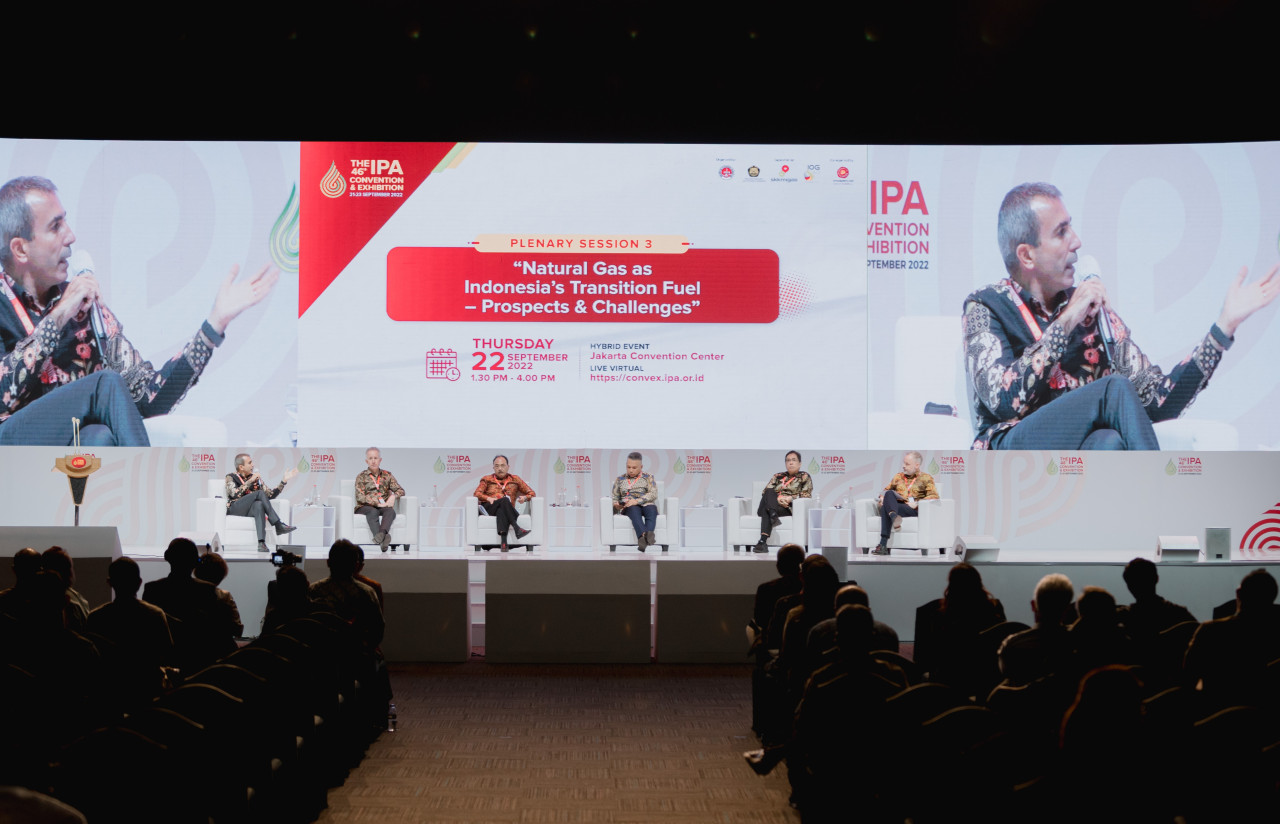 Gas Production Optimization Supports Energy Transition
The setting of a Net Zero Emission (NZE) target encourages the transition to New and Renewable Energy (NRE) in the midst of increasing global energy demand. However, the utilization of NRE is still not optimal due to a number of obstacles. Thus, gas is considered as an energy source that can fill the gap in demand during the transition period.
The implementation of technology that has not been optimal in maintaining the stability of NRE supply is the reason why this energy cannot completely replace the use of fossil fuels. This is due to differences in the ability of various industries to switch from fossil fuels to NRE, such as cement and steel production.
Secretary General of the National Energy Council (DEN) Joko Siswanto in his opening remarks said that natural gas can be a source of energy in the midst of a transition. Natural gas is relatively cleaner because it produces 50 percent less CO2 than oil and coal do. In addition, it is more affordable and accessible.
"Switching to gas is a quick win in achieving NZE," he said at the 46th IPA Convention & Exhibition Plenary Session 3 entitled "Natural Gas as Indonesia's Transition Fuel: Prospect & Challenges", at the Jakarta Convention Center (JCC) on 22 September 2022.
Moreover, the Government of Indonesia has declared gas as a transitional fuel because it has a major role in national energy supply. The gas target in the national energy mix is increasing from 21 percent in 2020 to 24 percent in 2050 in the National Energy General Plan (RUEN).
As gas production is slowing down to 4 percent after 2025 in line with the energy transition agenda for electricity needs, Joko said that domestic demand is projected to increase by 6.1 percent per year until 2035.
Based on the WoodMac report, Indonesia's natural gas reserves are only 35.6 Tcf. Thus, stakeholders need to find solutions to meet the needs of natural gas in the midst of an energy transition.
"Indonesia has to maximize natural gas development to meet these needs," said Joko.
Executive Vice President of Gas and Liquid Fuel Procurement of PT PLN Persero, Rakhmat Asyhari, said that PLN is currently implementing a roadmap that runs from 2021 to 2060 to achieve NZE 2060. The main strategy of this roadmap is expansion of gas exploration.
This gas exploration expansion aims to meet the electricity demand in the country. Currently, Liquefied Natural Gas (LNG) infrastructure and gas pipelines have been built, especially in Java and Sumatra.
"Next, we will build gas infrastructure to distribute LNG to eastern part of Indonesia," said Rakhmat.
Furthermore, Director of Portfolio and Business Development of PT Pupuk Indonesia, Jamsaton Nababan, said that natural gas is useful for fertilizer production. PT Pupuk Indonesia has five main factories spread throughout Indonesia. To maintain production levels, PT Pupuk Indonesia secures gas supply as its main strategy. One of the efforts to secure the supply is through the development of natural gas in Eastern Indonesia.
"We are planning developments in West Papua and Masela as an effort to secure gas supplies in the future, as well as to stimulate development in Eastern Indonesia," said Jamsaton.
Jamsaton also said that currently PT Pupuk Indonesia is committed to supporting the green industry through the development of green ammonia and blue ammonia as energy alternatives.
From the commercial side, Deputy for Exploration and Development of the Special Task Force for Upstream Oil and Gas Business Activities (SKK Migas), Benny Lubiantara, said that SKK Migas is accelerating development projects to support the commercialization and potential of natural gas in Indonesia through the Long Term Plan (LTP).
"LTP is a strategy to supply gas at the regional level," said Benny.
The strategy to support LTP is to increase the value of existing assets, implement Resource to Production (R to P), Enhance Oil Recovery (EOR), and do exploration. Benny said that his team continues to update their report regularly.
In order to achieve the production target while reducing emissions, IPA sees the need for a number of strategies. IPA Board of Directors, Diego Portoghese, pointed out that improving infrastructure and cooperation between upstream and downstream sectors are very important.
"Infrastructure is very important to the distribution process, by connecting gas sources to demand centers in the community," said Diego.
Diego emphasized the importance of a balance between setting domestic prices in accordance with the needs of the community with export potential. He is also optimistic that Indonesia will be able to supply both demands. The most important key to making this happen is in timely development when the demand is high.
Vice President of International Assets Petronas Upstream, Mark Fitzgerald, mentioned that the energy transition is not the final momentum for natural gas. In fact, the energy transition is the right time for quality improvement with the principle of low emissions.
"Natural gas is part of the solution, as long as it focuses on technology transfer and LNG innovation development, using Carbon Capture and Storage/Carbon Capture, Utilization and Storage (CCS/CCUS) as a strategy," said Mark.
To optimize gas development and production in Indonesia, IPA mentions the need for policy support from the Government of Indonesia. Diego said that the government's policy towards the development of CCS/CCUS is a good start.
"What needs to be a concern in the future is strengthening policies, long-term planning, and infrastructure development," he concluded.